The 23rd International Agricultural Exhibition (AgroViet 2023) is a four-day event which officially opened on 14 September, at the Economic and Trade Exhibition Centre in Hanoi, Vietnam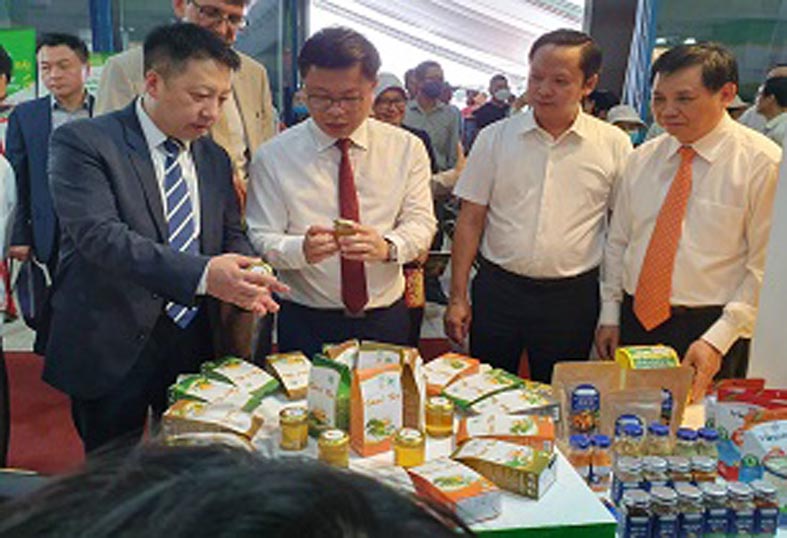 The event featured more than 200 booths and 1,000 sq m of product displays from more than 100 domestic and international exhibitors. (Image source: AgroViet)
Based on the theme 'Connecting Value Chains for Sustainable Agricultural Development', AgroViet 2023 not only promoted and expanded international economic cooperation and brand promotion, but also served as an opportunity for enterprises, cooperatives, and OCOP (One Commune, One Product) product owners to consolidate and explore domestic and export markets.
International participants from China, South Korea, Australia, Russia, and 45 localities within Vietnam were present at the event, which featured more than 200 booths and 1,000 sq m of product displays from more than 100 domestic and international exhibitors.
Vĩnh Long Province showcased numerous three-star and four-star OCOP products, including Mỹ Hòa pomelos, Vinagreenco pomelos, soursop from Khánh Nhân Soursop Cooperative, Tân Tiến rice, salted duck eggs, and dried fruit products from Đông Phát Food Co Ltd.
Participating in AgroViet 2023, Ngọc Yến, head of Consulting and Trade Promotion division at the Vinh Long Agricultural Technical Services Centre hoped that OCOP enterprises, cooperatives and product owners could explore and expand their market presence in the northern region, while also securing long-term cooperation agreements with domestic and international partners.
For more information, visit: https://agroviet.com.vn/