VNU Asia Pacific, together with the partners, is ready to announce the newest digital platform, V-Connect Vietnam Edition, the #1 digital B2B networking event for ASEAN's Feed to Food Industry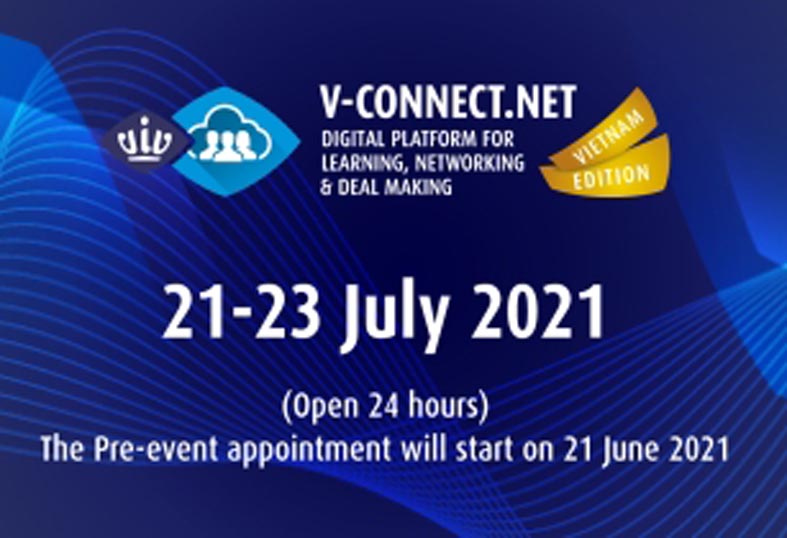 The V-Connect platform offers seamless access from a laptop or smartphone with full app integration and no download necessary. (Image source: VNU)
Developed by VIV Team. The event will take place on 21-23 July 2021 and the pre-event appointment for V-Connect Vietnam Edition will start on 21 June 2021 onwards. Please pre-register in advance to get the latest updates and more information about our digital event.
V-Connect Vietnam Edition Introduction
V-Connect Vietnam Edition is the #1 digital B2B networking event for ASEAN's Feed to Food Industry. The V-Connect platform provides a progressive web-based, smartphone-supported online ecosystem optimised for all attendees to meet, network and make deals for ASEAN's Feed to Food Industry and aim to offer businesses a reliable, responsive and highly actionable platform through which to grow as we continue to adapt to and prosper during the current global climate.
How Does it Work?
V-Connect platform will be organising by collocated with the main exhibition and/or the standalone events. For the V-Connect Vietnam Edition, it is the first edition of this digital platforms that we introduce to our clients and the customers of ILDEX Vietnam will get the best priority to join our digital platform on 21-23 July 2021. The platform features include:
Meet Clients Across ASEAN
Set up meetings with relevant brands intelligently selected by aligned business profile interests and elements. Our exhibitors enjoy three days of interactive, real-time live chat or video call meets with new buyers – plus access to a powerful, integrated suite of lead generation tools.
Industry Immersion
Position your business at the heart of the Feed to Food industry. Our end-to-end platform unites thousands of industry frontrunners to engage, network and deal with one another. Welcome buyers to 1:1 meetings and group webinars, present custom campaigns and enjoy brand exposure via on-platform sponsorship opportunities.
Learn & Network
Attend and present webinars, live stream conferences and more online event formats. Visit themed Virtual Lounges hosting group chats and access unique meetings with industry experts, associations and stakeholders.
Cutting-Edge Platform
The V-Connect platform offers seamless access from a laptop or smartphone with full app integration and no download necessary. Its customisable digital showcase booths enable exhibitors to create unique online displays featuring on-brand imagery, marketing collateral and more.
Every event hosted on the V-Connect digital platform provides a new phase of online connectivity for the industry it serves (based on regional targets). Get on board and boost your business today with V-Connect's digital event series!
Register Now at https://www.online-register.org/ildex/index.php?eh=708
For more information, please visits www.ildex-vietnam.com or contact us at This email address is being protected from spambots. You need JavaScript enabled to view it.