Neogen Corporation recently announced the launch of two new assays for the detection of natural toxins, Reveal Q+ for DON EndPoint and Reveal Q+ for Aflatoxin EndPoint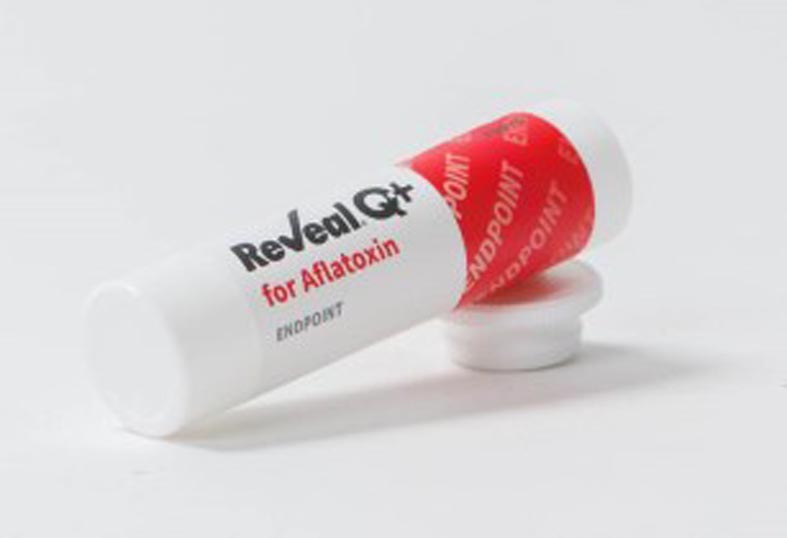 New Reveal Q+ EndPoint assays designed for use in high-output situations. (Image source: Neogen)
The Reveal Q+ EndPoint assays are easy-to-use quantitative lateral flow tests that provide accurate results in minutes. Designed to be read on Neogen's Raptor Solo Platform, the EndPoint assays are intended for use in situations where increased workflow output is required.
"The new EndPoint assays take our trusted Reveal Q+ assays to the next level, providing users with an efficient way to test large sample volumes for the presence of natural toxins," said Neogen's president and CEO, John Adent. "As we continually look for ways to make workflows simpler for our customers, we are pleased to offer this new solution to help make the testing process easier, while delivering accurate results."
Both assays have received a Federal Grain Inspection Service (FGIS) Certificate of Compliance for corn and wheat commodities, certifying that the tests meet all of the USDA-FGIS's design and performance standards and can be used for official inspections.
Reveal Q+ for DON EndPoint (PN: 8375) has the ability to detect deoxynivalenol (DON) – a toxin produced by fungi living on grain products, in grain and grain products – and deliver precise results from 0.3-30 parts-per-million (ppm) in three minutes. The assay is FGIS 2021-154 certified for corn and wheat.
Reveal Q+ for Aflatoxin EndPoint (PN: 8075) is able to detect aflatoxin – a toxic and carcinogenic substance produced by certain strains of mold in corn – and provide precise results from 4-100 parts-per-billion (ppb) in six minutes. The assay is FGIS 2022-168 certified for corn.
Neogen offers the most comprehensive range of food safety diagnostic test products for foodborne bacteria, mycotoxins, food allergens, and other concerns. Its full line of mycotoxin test kits detects aflatoxin, deoxynivalenol (DON), fumonisin, ochratoxin, T-2/HT-2, and zearalenone.