Bühler AG, a Swiss multinational plant equipment manufacturer has formally handed over the Rupshi Flour Mill to City Group in Dhaka, Bangladesh after achieving a record completion time of 24 months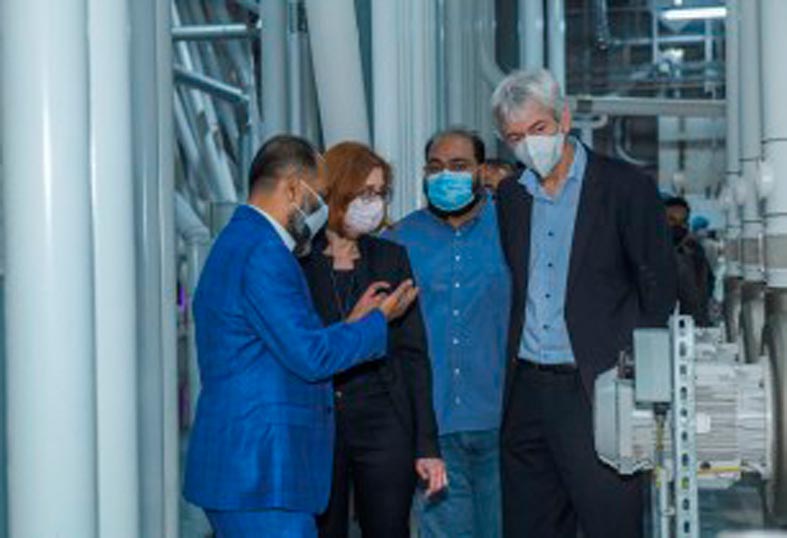 Guests take part in the Rupshi mill tour. (Image source: Bühler)
The handover ceremony took place at City Group's production plant on the bank of the Shitalakshya River, 30 km outside of the capital, Dhaka.
Nathalie Chuard, the Swiss Ambassador to Bangladesh said, "The economic ties between Bangladesh and Switzerland are getting stronger and stronger. And for the first time ever, we passed CHF 1 billion, that's about US$1.1bn in terms of trading goods. So that's a very important milestone. Switzerland and Swiss companies are very strong in terms of innovations and can provide technologies that are of real value. I see that City Group are ready to invest in Swiss technologies and I think it's for the benefit of everyone in Bangladesh."
City Group director Md. Hasan said, "We are very happy to have one of the largest flour mills on our site. And we want to congratulate Bühler for being a partner on our journey, to provide affordable nutrition."
The Rupshi flour mill

The Rupshi flour mill is City Group's largest flour mill, with eight milling lines producing 625 tn each. According to City, the mill can produce a total of 6,150 tn per day of flour under one roof. The project was executed in a record 24 months since the December 2019 signing of the contract between Bühler and City Group.
Johannes Wick, CEO of grains and food at Bühler, said, "This means a lot to Bühler. We are very excited about working together with City Group. We got to know Mr Chairman Fazlur Rahman as a very visionary entrepreneur, always leading the future. And we want to be together with leaders. We are very happy that we were able to contribute to this project. It was built in record time; in two years we've built this mill together."
Stefan Bürgi, Bühler project director, explains the challenges faced working during the pandemic, "During the sales and quotation period, the customer's needs and requirements were worked out together so that after the contract was signed, we could immediately set up an experienced engineering team which was fully dedicated and worked only on this precious project. A key factor was close collaboration with the customer and regular onsite status/follow up meetings. The installation and commissioning were planned in detail, executed in a coordinated way, and tracked with an integrated time schedule. The Bühler site management, together with the customer, installed and commissioned the eight mills from September 2020 until November 2021."