The Bühler Group has signed an agreement to supply the TPS Group, Indonesian rice and noodle producer, with two 17 tonnes per hour rice reprocessing lines worth US$7mn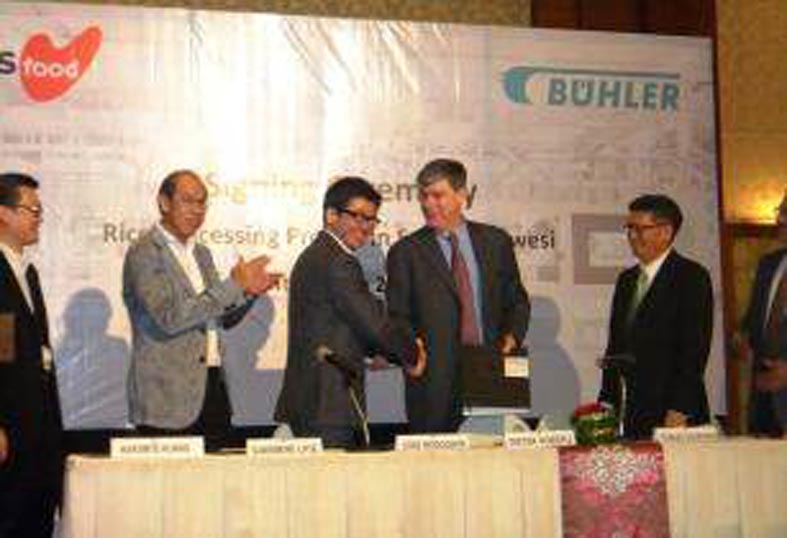 (From left) Harsinto Huang, CFO of TPS Group Syambiri Lioe, CEO of TPS Group Joko Mogoginta, president of the Bühler Group for Asia Dieter Voegtli and Tomas Soleman. (Image source: Bühler Group)
According to the group, the contract, signed in Jakarta, marks a further milestone in Bühler's continuing expansion in rice processing across Asia and is a significant step forward for the TPS Group, following its entry into the rice business in 2010.
The installation of the rice reprocessing plants at Sidrap, South Sulawesi, is expected to increase the TPS Group's total production capacity by 240,000 tonnes per year, with warehouse capacity increasing to 30,000 tonnes. The project by Bühler will be commissioned by mid-year 2016.
TPS Group currently has three rice processing plants across Indonesia including PT. Jatisari Rejeki at Cikampek in West Java), PT. Indo Bears Unggul at Cikarang in West Java and PT. Sukses Abadi Karya Inti at Sragen in Central Java with a total capacity of 480,000 tonnes.
Investment for the TPS Group's South Sulawesi sites will increase the manufacturer's total production capacity to 810,000 tonnes per year while underlining its commitment to achieve a five per cent share of milled rice production volume in Indonesia by 2020, according to the Indonesian firm.
Rustom Mistry, director, head of rice processing, Asia for Bühler, said, "The agreement with the TPS Group demonstrates Bühler's commitment to develop state of the art processing solutions and an acknowledgement of our global capability to supply complete process engineering solutions, driven by our leadership in rice research and technical excellence. By choosing Bühler to support its rice processing lines, the TPS Group is well positioned to meet its plan of achieving a significant share of the milled rice production in Indonesia. We look forward to continuing our relationship with the TPS Group.
"The deal demonstrates Bühler's significant investment in its customer partnerships, technical innovations and localised service and support, which is serving the demands for processing and optical sorting solutions from rice processors around the world. This significant agreement is further evidence of Buhler's reputation as the number one technology partner of choice in rice processing."