International agri-equipment company, Pöttinger has added several new features to its loader wagon sector for the 2017 season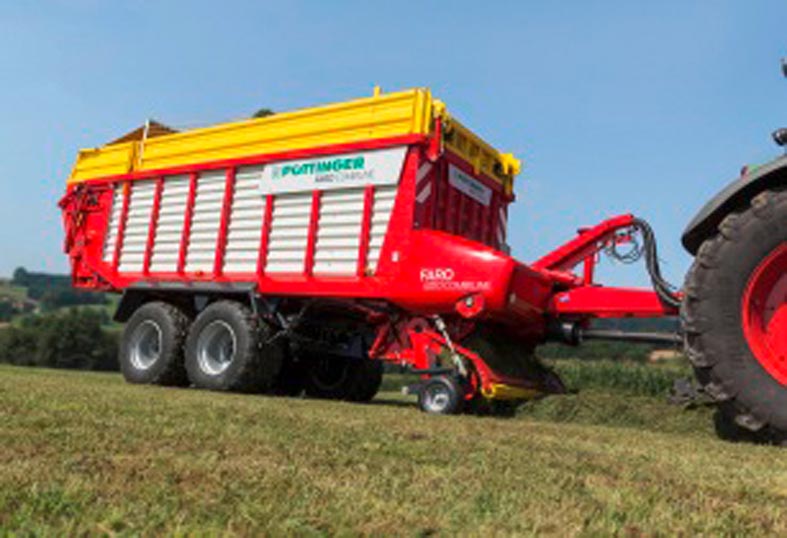 Pöttinger FARO 4010 COMBILINE loader wagon. (Image source: Pöttinger)
The highlights of the new features offered by the company include:
- New three-tonne drawbar for EUROPROFI, TORRO and JUMBO loader wagons
- Automatic transport and working settings on the PRIMO and above
- Upgraded mechanical forced steering for two-tonne models
- LED working lights package
- New tyres
The new three-tonne drawbar for the EUROPROFI, TORRO and JUMBO series of load wagons adds an extra tonne to the highest permissible laden weight. Improved traction also means more power to the ground.
The new automatic transport and work settings from the PRIMO models to the TORRO COMBILINE (was already standard on JUMBO models) makes things more convenient for the driver, the company commented. In addition, the pick-up has a higher ground clearance because the pivoting drawbar is also raised automatically. The directly selectable horizontal position also provides enhanced safety during transport.
The new mechanical forced steering provides two customer benefits: convenience and an extended service life. The lockable track rod makes hitching easier for a higher level of convenience. A collision guard protects the track rod against damage and prevents it from contacting the tractor tyres.
The new working lights package with seven LED floodlights guarantees the best visibility at night. Unloading in the clamp at night is now also safer with two floodlights in the loading chamber, two on the tailgate and two at the pick-up as well as an additional unit to illuminate the chopping system. The new lighting package is available for all models from the PRIMO to the JUMBO COMBILINE.