De Heus on 26 September, organised the grand opening ceremony of a new aqua feed mill at the Tra Noc Industrial Zone in Can Tho province, Vietnam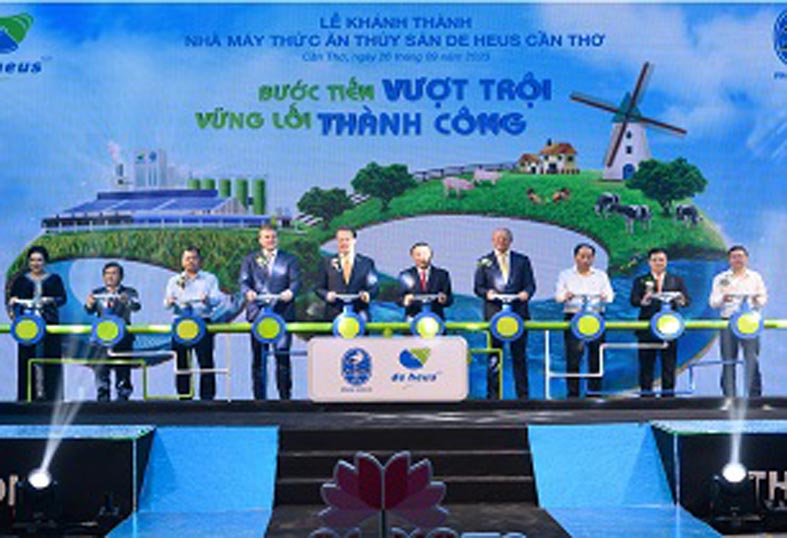 The De Heus Can Tho Aqua Feed Mill is designed with a total capacity of 240,000 tonnes annually and is dedicated to producing pangasius feed. (Image source: De Heus)
Besides key leaders from several MARD departments, local authorities and more than 600 customers, partners, press agencies and De Heus representatives attended the grand opening ceremony of the aqua feed mill. As part of the opening ceremony, the guests were invited to a tour inside the feed mill to gain firsthand insight into how high-quality products for the Mekong Delta pangasius farmers are produced.
The opening ceremony is an important part of the 50th anniversary celebrations of the diplomatic relations between Vietnam and the Netherlands. Moreover, the opening of this mill also contributes to the Sustainable Development Goals of the United Nations (SDGs), especially with regards to achieving food security, improving nutrition and promoting sustainable agriculture.
Designed with a total capacity of 240,000 tonnes annually, the De Heus Can Tho aqua feed mill is dedicated to producing pangasius feed. All products are manufactured using state-of-the-art European and US production technology. The entire production process, from input to output, is controlled by a fully automated system and strictly managed in accordance with ISO 22000, BAP and GLOBALG.A.P. standards.
The strategic location of the feed mill near the river port also provides outstanding advantages for transporting raw materials to the plant and finished products to farmers. De Heus's innovative bulk feed transportation system for pangasius feed enables floating aqua feed products to be transported efficiently from feed mill to farms by river. This results in significant cost reductions, a much smaller greenhouse gas emissions footprint due to more efficient transportation, no use of plastic packaging materials and less transportation and production losses.
"We strongly believe white fish products are amongst the most healthy, delicious and sustainable animal protein products. Therefore, at De Heus we actively keep investing in building our capabilities in this sector, especially in Asia and Africa," said CEO of De Heus Animal Nutrition, Koen De Heus. "Vietnam is positioned well to become one of the world's most important sources of aquatic proteins. We are committed to keep developing our strategic position in Vietnam together with our local and international partners."
For more information, visit: https://www.deheus.com/