FAO has donated three marine safety grab bags to improve the safety at sea for the fisherwomen of Silana Village, Tailevu in Fiji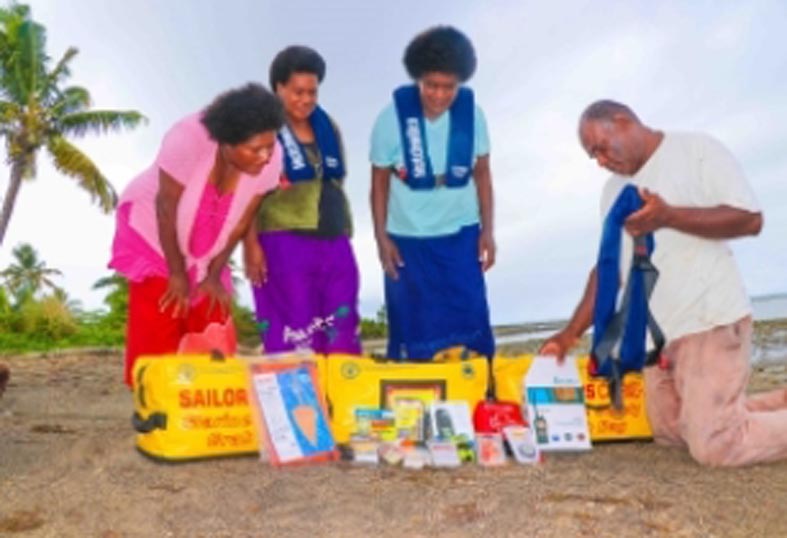 The fisheries officers will assist in the distribution and training the local fishermen and women in the use of the Marine Safety Grab Bags. (Image source: FAO)
The FAO initiative identifies the importance of fishing for local livelihoods and diets. It also recognises that fishing is one of the most dangerous of all occupations, with an estimated 24,000 fatalities worldwide.
Silana Village is one of the 40 coastal communities that are receiving Marine Safety Grab Bags from FAO, to be used by local, small commercial fishing enterprises registered with the Ministry of Fisheries.
"The recipient licensed 'in-shore' commercial fishing groups have been identified by Ministry of Fisheries' officers. The Turaga-ni-Koro of each village receiving the Grab Bags will ensure that all licenced fishermen in the community have access to the bag and its contents," said Apisai Sesewa, consultant of fisheries for FAO.
Sesewa said that each bag contains a personal locator beacon, a strobe light, a signaling mirror and whistle, a rescue laser and sea rescue streamer, a handheld marine VHF radio, a sea anchor, three manually inflatable life jackets, a directional compass, a first aid kit and two thermal emergency blankets.
He said the Pacific Community (SPC) supports the programme, and has conducted training for the fisheries officers in the use of the bag's contents. The fisheries officers will assist in the distribution and training the local fishermen and women in the use of the Marine Safety Grab Bags.
The Grab Bags will also be used by the men of the village to conduct their Eco-tourist venture of dolphin watching.