China and Vietnam recently held a fishery release activity for restocking in the Beibu Gulf in Beihai, Guangxi Zhuang Autonomous Region, China, and Halong, Quang Ninh Province, Vietnam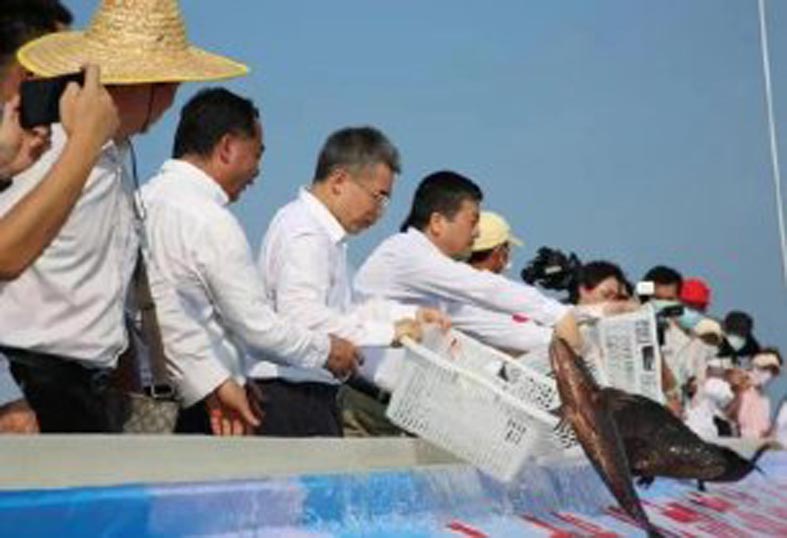 Officials from both countries participated in the fish release event. (Image source: Ministry of agriculture and rural affairs, China)
Nearly 64 million fry of fish and prawns, including blackhead sea bream, were released into the Beibu Gulf. China's vice-minister, Ministry of agriculture and rural affairs, Ma Youxiang and Phung Duc Tien, deputy minister of agriculture and rural development of Vietnam, attended the event via video conference and delivered remarks. Fang Chunming, vice-chairman of Guangxi Zhuang Autonomous Region, attended the release event in Guangxi.
Ma Youxiang emphasised that the release and enhancement of fishery resources in the Beibu Gulf can significantly help protect marine ecosystems, improve productivity, and increase the income of fishermen. Since the signing of the Memorandum of Understanding (MoU) on cooperation in the enhancement, release, and conservation of fishery resources in the Beibu Bay between China and Viet Nam, witnessed by general secretary Xi Jinping and general secretary Nguyen Phu Trong in 2017, the countries have jointly held four such joint activities in Guangxi, China and Halong Bay in Vietnam.
According to the Chinese ministry of agriculture, the country has released a total of over 150 million fry of various aquatic species, including red sea bream, blackhead sea bream and redtail prawns into the Beibu Gulf, and has seen positive results in resource restocking, as the recapture rate remains at a high level of more than 5%.
Chinese officials also noted that the country is willing to continue negotiation with Vietnam for a new agreement on fishery cooperation in the Beibu Gulf to enhance cooperation in resource investigation, fish release and restocking, law enforcement of fishery and fisheries emergency response.
Vice Minister Ma also expressed the willingness to carry out exchanges on aquaculture, strengthen personnel training, and facilitate aquatic product trade and investment in aquaculture with Vietnam, as well as promote pragmatic fisheries cooperation with Vietnam under the Belt and Road Initiative and the Lancang-Mekong Cooperation mechanism.