AFRY partners with Volta Greentech to build their first seaweed factory aiming to reduce 80% of methane emissions from cows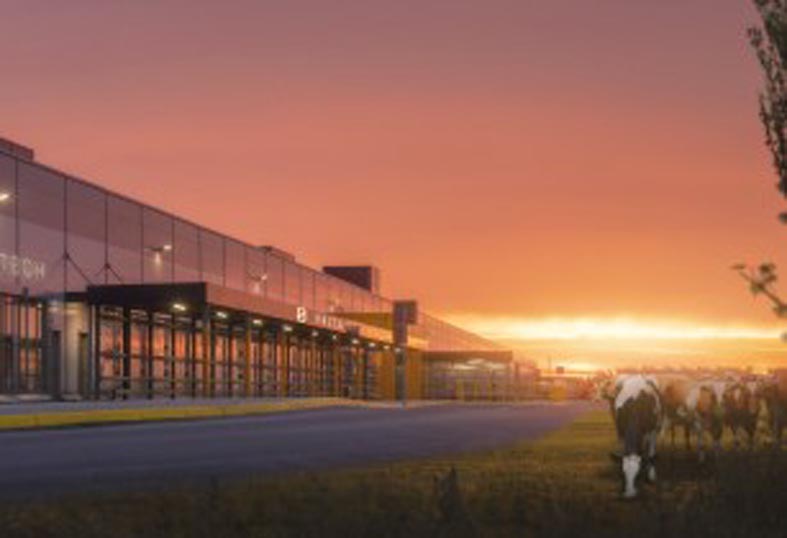 Volta Factory 01 is a modular, land based production system for the feed supplement. (Image source: AFRY)
Cows produce more than 4% of the global greenhouse gas emissions by releasing methane gas, which is more than twice as much emission as all the world's airplanes.
Backed by more than six years of research from international universities and research bodies, Volta Greentech is now commercialising their seaweed based feed supplement for cow feed which could reduce up to 80% of their methane emissions.
To meet the increasing global demand for the solution, Volta Greentech is rethinking how to produce seaweed.
AFRY have been selected to support the construction of Volta Factory 01 as the preferred engineering partner to Volta Greentech and now supports the construction of the facility along with the company's in-house team of biologists and marine scientists.
"AFRYs exceptional competence in engineering combined with their extensive experience of production systems for aquaculture makes them the perfect partner," said Fredrik Åkerman, CEO at Volta Greentech.
Located in the city of Lysekil on the Swedish west coast, Volta Factory 01 is a modular, land based production system for the feed supplement. Specifically designed to be replicated at scale, Volta Factory 01 will both supply Volta Greentech's first commercial partnerships and lay the technical foundation for the coming large-scale factories.
"The challenge of producing this seaweed at scale is a complex one, and it lies very much in line with our sustainability agenda. We see enormous potential in this project, both in terms of direct climate impact and as a future long term collaboration opportunity. We are proud to be supporting this development," added Max Larsson, group manager, business unit, thermal and renewables at AFRY
"This solution has an immense impact potential, but as no one has produced this seaweed at scale before, the global demand far exceeds the supply. There are more than one billion cows out there, and looking at existing production methods for seaweed we quickly realised that we needed to take a different approach to reach the scale we are aiming for. Therefore, we went to the drawing board and looked at what would be necessary to do this at a global scale," stated Fredrik.
"By engineering a land based production system from the ground up, we can ensure consistent harvest and quality over time, regardless of the surrounding environmental factors like water quality and weather. This approach also enables us to drastically improve both the efficiency of the production and the product quality over time by continuously developing and improving the production recipe in the lab at Karolinska Institute in Stockholm - much like software updates to a computer," Fredrik remarked.