CLAAS, the global agricultural machinery manufacturer has unveiled its new VARIANT 500 variable chamber round balers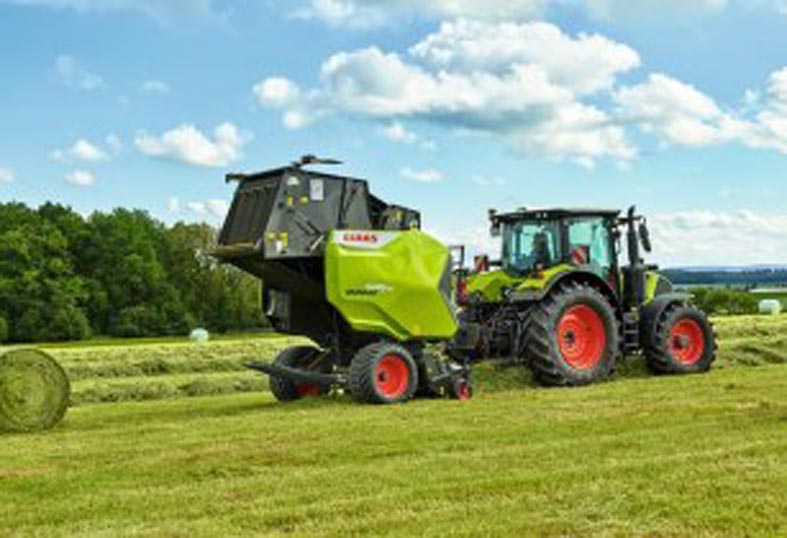 The VARIANT 565 RC and 585 RC also incorporate heavy-duty drive components such as reinforced drive chains and a strong cutting rotor (Image source: CLAAS)
In addition to the further development of essential functional areas like the pressure control system, these new balers are characterised by larger tyre options, simplified maintenance and a new design.
With the VARIANT 500 series, the company said that it now succeeded in incorporating a clear plus in operator comfort and ease of maintenance with increased baling density, further optimising net wrapping and at the same time meeting practical demands for tyres that protect the soil.
More knives for VARIANT
The VARIANT 500 series comprises four models. The VARIANT 560 RC and 565 RF can create bales from 0.90 to 1.60 m in diameter, while the bale diameter with the VARIANT 580 RC and 585 RF is up to 1.80 m. The new VARIANT 560 RF and 580 RF both feature a spiral ROTO FEED rotor, while the VARIANT 565RC and 585RC both come with a spiral ROTO CUT four-star cutting rotor that ensures excellent forage quality and high baling density.
The VARIANT 565 RC and 585 RC also incorporate heavy-duty drive components such as reinforced drive chains, a strong cutting rotor with 8 mm double-tine stars and special knife protection for where the baler is heavily used and primarily for silage.
Both balers are equipped with a 17-knife cutting mechanism with a theoretical chop length of 60 mm. The standard PRO rotor drop floor can be lowered hydraulically to clear blockages at the push of a button from the tractor cab, while the knives are automatically depressurised. In order to prevent blockages in advance, the PRO rotor drop floor compensates for uneven swaths by being able to lower itself by up to 30 mm and automatically return to its original position. An acoustic signal warns the driver before the rotor is blocked so that there is enough time to reduce the driving speed.
The baler comes with a standard cutting unit with 17 knives and 60 mm theoretical chop length as well as the PRO rotor drop floor as standard on the VARIANT 565 RC and VARIANT 585 RC. New baling pressure control with measurement of pressure and position on both belt tensioning arms for a better bale, optimised density distribution in the bale and precise softcore setting.
The product features improved net wrapping with a lower net roll position for easier roll changes and new net brake and knife release and larger tyre options up to 560/45 22.5 for more soil protection. New oil lubrication with individual adjustment of the amount of lubrication for each chain and optimised adjustment of drawbar and pick-up guide wheels, equipping the hydraulic hoses with Kennfixx plug-in couplers.
The equipment can be operated via the CEMIS 700 ISOBUS terminal that was introduced in 2020 and features a modern panel design with the new Y-design as used on the LEXION, TRION and NEXOS.