Kubota has renamed its long-standing MGX range the M6-001 Utility series, which spans the same 104hp to 143hp segment to slot between the smaller M5-002 and higher-spec M6-002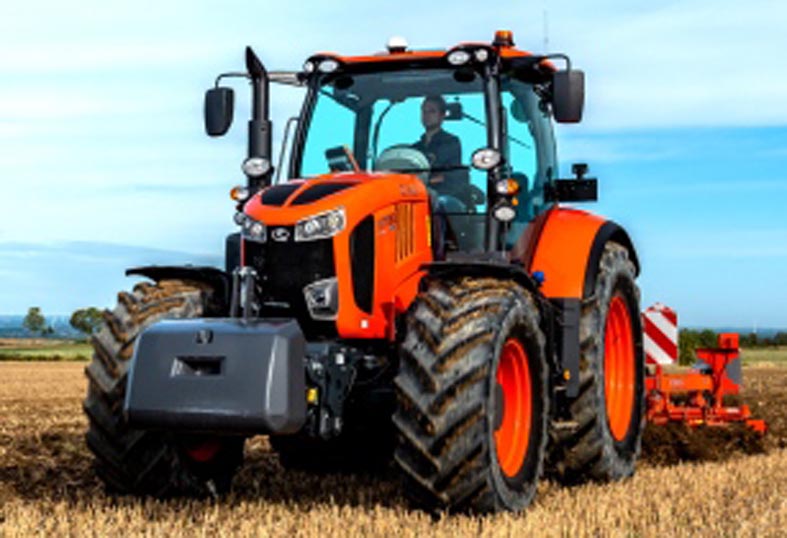 All M6-001 Utility models get a 40kph semi-powershift transmission. (Image source: Kubota)
Improvements have been made to exhaust after-treatment where diesel particulate filter regeneration can be achieved at lower engine revs – down from 2,000rpm to nearer 1,200rpm – and at a temperature of just 50C. This makes regeneration much easier to achieve, with light engine loads, lower noise levels and a reduced fuel burn, said Kubota.
The rest of the spec remains as before, with the short-wheelbase (2.54m) M6-101U and M6-111U both packing the same 3.8-litre Kubota four-cylinder engine.
All M6-001 Utility models get a 40kph semi-powershift transmission with eight steps in three mechanical ranges and the option of a creeper range to extend the ratio count to 32. Nice-to-have functions includes auto-shifting in each range and a sensitivity dial that allows operators to adjust the responsiveness of gear changes.
Hydraulic output is 71 litres per min on short-wheelbase models and 77 litres/min on the larger versions. Two mechanically operated spool valves are fitted as standard and another two can be specked as optional extras.
M6-001 Utility models also get Kubota's portal front axle with bevel gear drive, the same cab frame as the bigger ranges and the choice of two loaders - 3.7m or 4m lift height and maximum capacities of 1,950kg or 2,200kg.