Terra Drone Corporation, a leading drone and Urban Air Mobility (UAM) technology provider, through its acquisition of Southeast Asia's leading agricultural drone spraying and mapping service startup, Avirtech, is branching out into the precision agriculture sector in Malaysia and Indonesia, under the new business brand 'Terra Agri'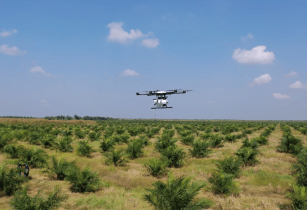 The integration of Terra Drone's global UAV technology leadership with Avirtech's precision farming prowess has led to the expansion of Terra Agri. (Image source: Avirtech)
The various benefits of drones and their ability to empower farmers to become climate smart are widely being recognised by governments and regulators alike.
Indonesia and Malaysia, known as major palm oil producers, account for around 80% of global production. However, these countries face serious issues including deforestation, ecological impacts, harsh labor conditions, labor shortages, and other environmental problems. Moreover, soaring prices stemming from a shortage of palm oil supply have become a major concern.
Currently, Terra Agri's main focus market is Indonesia and Malaysia. Individually, the two companies are well known for their services. Japan's Terra Drone, is recognised as one of the top drone service providers in the world, while Avirtech has contributed largely to boosting the productivity of the palm oil industry. Avirtech's solutions aid palm oil-focused farmers and plantation companies to minimise crop failures, resulting in a 30% reduction in operating costs.
Toru Tokushige, founder and CEO at Terra Drone Corporation, said, "Terra Drone is entering the agricultural sector anew with the transfer of business from Avirtech. The integration of our expertise with Avirtech's groundbreaking crop intelligence technologies opens doors to unprecedented opportunities for enhancing productivity, optimising resource allocation, and promoting environmental sustainability in farming."
For more information, visit: https://www.terra-drone.net/global/ and https://avirtech.co