On 2 January, Energous Corporation WATT, a leading developer of RF-based charging for wireless power networks, and ams OSRAM AMS, a global leader in optical solutions, announced a collaboration on a wirelessly powered multi-spectral light sensor for Controlled-Environment Agriculture (CEA) and vertical farming, which will also have the capability to compute photosynthetically available radiation (PAR)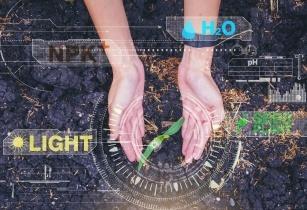 Sensors allow farmers to manage their lighting in the most efficient way possible. (Image source: Adobe Stock)
The joint solution is based on the multi-channel AS7343 spectral sensor from ams OSRAM and the WattUp PowerBridge from Energous. The solution will be available for live demonstrations at the Energous booth at CES 2023 scheduled to take place in Las Vegas from 5-8 January, 2023.
"Today, IoT devices like light sensors are deployed in a range of environments including CEA and vertical farming applications, where replaceable batteries and power cords can restrict or complicate deployments while also requiring hands-on battery maintenance," said Cesar Johnston, CEO of Energous. "Energous' WattUp PowerBridge technology provides a reliable source of power simultaneously to multiple devices, allowing for more flexible, waterproof device designs and reducing the burdens that keep them powered."
Wim Renirie, vice President and general manager business line AWS at ams OSRAM, stated, "Technological advancements in vertical farming and [CEA] are moving quickly, bringing with them a growing need to ensure sensors in the field are powered wirelessly and without batteries. These sensors allow farmers to manage their lighting in the most efficient way possible. Through our collaboration with Energous, we are showcasing such multi-spectral light sensor solution which can help alleviate this issue in horticulture and agriculture applications including vertical farming."